A new Jamzone update is now available (or soon to be) for your compatible devices. In the upcoming weeks, we will gradually roll out 30.000+ new tracks for devices running these versions.
iOS/iPad/MacOS: v2.12
Android: v2.3
Why?
Lots of you asked us to extend our catalog and make more songs available and so we decided to give you all we've got: our entire catalog of music recorded by professional musicians in our studios!
How?
Our studio has already recorded the audio for thousands of tracks and continues to produce 400 new ones each month and we're making them available to you! For some however, it is important to note that we are still working on identifying the chords. For others, it is a question of licensing and we simply do not have the rights to display all chords and lyrics.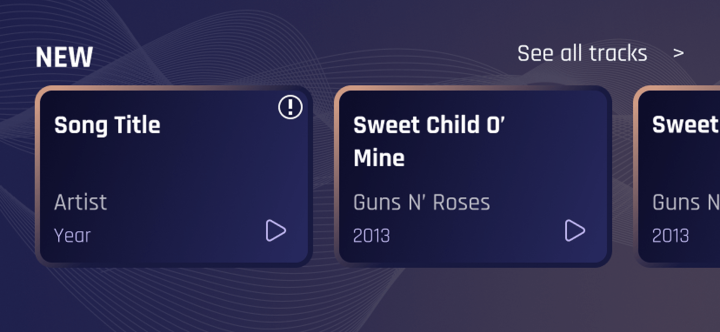 From now on, here are the three types of songs we'll make available to you on Jamzone.
Full tracks: audio mixer + chords + lyrics
These are the songs you are already used to play on Jamzone. Lyrics and chords scroll in real-time with the music.
Pending tracks: audio mixer only, chords & lyrics in the waitlist
These are the songs for which we've not yet identified the chords and rendered the background player view. They are indicated in the catalog lists by a '!' icon. And show a text warning in the player until we can completely identify all chords. When you buy such a track it will automatically get to the top of our priority to turn it into a "Full Track" fast. How fast? Currently less than 5 working days. So don't the pending tracks keep you from getting them!
Restricted tracks: audio mixer only
These are the songs we only have the right to distribute as audio-only. We cannot display the chords and lyrics scrolling along with the music in the background. They are indicated in the browsing lists by a '!' in the upper right corner and show a text warning before and after it is purchased. You can still use the full audio-mixer, pitch, tempo, and loop (in most cases) features.
Popular tracks available soon on our apps
Hotel California - as made popular by Eagles (Restricted title)
Sultans of Swing - as made popular by Dire Straits (Restricted title)
Seven Nation Army - as made popular by The White Stripes (Restricted title)
Sweet Dreams (Are Made of This) - as made popular by Eurythmics (Restricted title)
Browse the catalog in app →
* Complete rollout starts on 10/18/21 and will be completed within 4-6 weeks.
What's next on the roadmap?
Thanks to the rollout, we're confident that you will find your jam! But in the rare case that you can't, we are working on a way to let you suggest tracks and be alerted when they are released. Stay tuned!
Other things in this update?
Yes! You can now choose the playback default behavior in your setlist with "Auto-next" and "Autoplay". Learn More →