On the 1st of October 2022, Jamzone will adopt a subscription model, fully replacing its historic in-app purchases of virtual credits.
Why is Jamzone adopting a subscription model?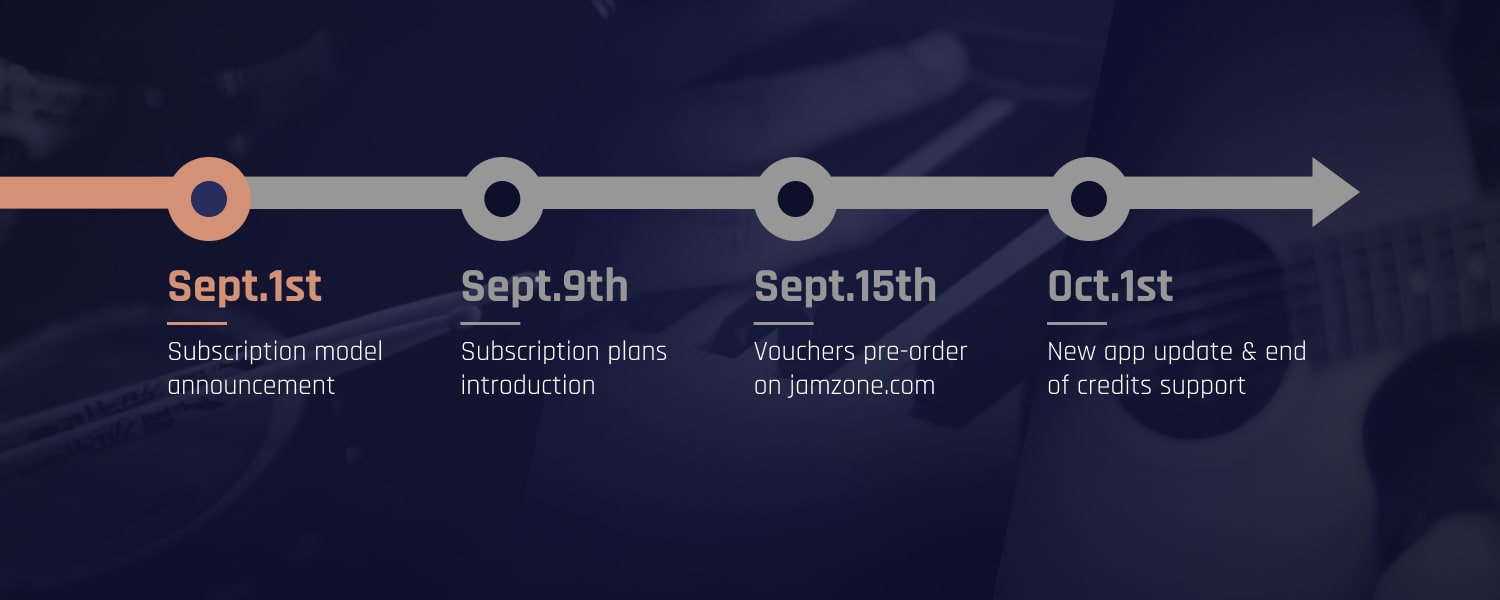 To unlock your creativity and discover new music
We want to give you unlimited access to everything we have, from anywhere, at any time, and as long as you need.
As a Jamzone Premium or Pro subscriber, you will unlock unlimited access to our complete catalog of high-quality custom backing tracks. A lot of value for a little money each month, Jamzone will be your most affordable and reliable music teacher and bandmate!
To provide more flexibility & simplicity
The monthly subscription model is better adapted to our song streaming + offline mode offering. The immediate and complete access to our catalog smoothen the experience and lets you more time playing!
Jamzone offers a streaming and an offline mode, but cannot provide a file download service. Moreover, your access to our app and library depends on your hardware compatibility.
With our new subscription plans, you can cancel anytime you want. Of course, you can come back and reactivate your plan at any time. This will enable you to pick things up right where you left off.
To speed up the development of your feature requests
Segmenting features per subscription offer will help us allocate resources more efficiently and speed up the development of new and improved functionalities.
Last year we asked you what improvements you wanted to see in Jamzone, and since then we worked on what was useful to everyone: extending the catalog from 11.000 to 50.000+ songs, improved playback and setlist controls, dark/light mode, etc…
This helped us find out that different user types are using our app for different reasons and purposes. Some use it to learn and practice an instrument, others use it to perform publicly.
With our two subscription offers we can attribute relevant features to each. We can also concentrate on working towards a common vision for our app:
Display the chords diagrams
Add annotations to songs
Share a synced session across multiple devices
Record the app's audio output
Import your own MP3 tracks
Control the app with a foot pedal
Save multiple mixer settings presets
To provide music licensing contracts & features adapted to professional musicians
All Jamzone Pro subscribers benefit from a license to use our tracks for online publications and performances in public venues.
We want to facilitate the use of our app for online content creation and public performances (commercial and non-commercial). The new Jamzone Pro Subscription includes a license to use our recordings to create and publish online content, as well as perform live to an audience.
Additional features specifically designed for music professionals will be added to this subscription plan further down the line.
To accelerate the growth of the Jamzone community
With more value for less money, Jamzone will be backing up an increasing number of musicians all around the world.
Over the past months, we've seen tremendous enthusiasm and engagement amongst our users. We love all of the experiences and suggestions that you share and we want to see more.
Our ability to sustain and improve our product mainly depends on the number of active users. With a higher number of users, we can provide you with even more new features for you and your band.
The new subscription plans make Jamzone more accessible to all kinds of musicians and singers, wherever they are on their musical journey.
Subscribing to Jamzone will accelerate our growth andhelp our teams of passionate professional musicians and developers to focus on what matters most: app reliability, user experience, and content quality.
How will this transition work?
We're sure you have plenty more questions about "how" now that you have read the "why". Each week until October 1st we will send you an email and publish on our networks some more information about Jamzone's subscription plans:
What are the Jamzone subscription plans & features?
What happens to the songs already unlocked with credit and credits left unspent?
How to use your subscription voucher?
etc...
So keep an eye on your inbox to learn more about these things, or if you want to take a head start: you can already find out all the answers in our dedicated Help Center.