We're excited to announce a new feature on Jamzone that will change how you practice your instrument! Introducing skill settings on Jamzone: beginner, intermediate or advanced (added bonus: modify the skill level on any of your favorite songs)
.
1. Songs that adapt to your level
This brand new option is available on Jamzone iOS and coming soon to Android.
Simplification of chords
This feature can be found on all songs at the lower part of your screen in the center.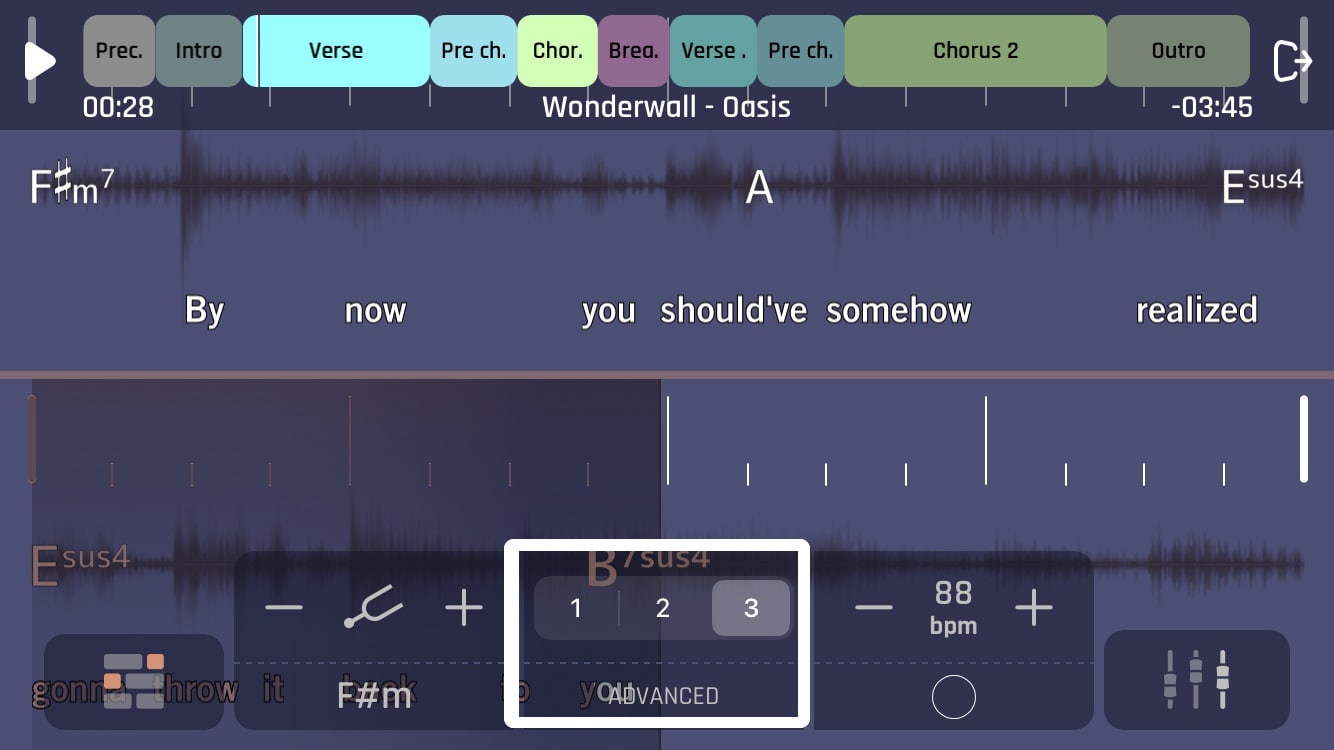 Find it also in your settings in your My Account page, by clicking on My Jamzone Profile. Upon selecting this option, Jamzone categorizes and converts a song under the following levels: beginner, intermediate or advanced and simplifies the chords according to the selected level.
Let's take an example... you decide to play "Wonderwall" by Oasis, but the complexity and your capabilities are mismatched and you are met with a string of Dadd9, F#m, A. You studied Spanish not hieroglyphics, so you opt for Jamzone's "beginner" level and with the help of the app's algorithm, the chords are transposed and the audio and the chords are simplified by a semitone.
So instead of hieroglyphics, you see the chords simplified to C, Em, G.
So if you normally shy away from certain musical hits and classics due to the complexity of the chords, finding yourself leaning towards playing campfire songs and nursery rhymes for children, it's time to rediscover a taste for music (and life!). Confidently approach any song and take advantage of the pleasure in playing it without torturing yourself (and others along the way). Playing any song, no matter the difficulty, is now at your fingertips.
2. New for guitarists: a capo capability if and when you want
The newest Jamzone comes with the possibility of adding a capo when you want it.
If you decide to add a capo, the Jamzone application will indicate the capo and help simplify the position of your fingers, thus avoiding the often confusion which haunts apprentice guitarists and ukulele players who may be mistaken as Freddie Kruger when using a capo.
3. Pitch change adapts to your level of play
Since good surprises should never be limited to one, Jamzone offers you a third gift: when changing the key of your song, chords also change… and in accordance with your skill level!
In your Jamzone iOS settings, enter your default skill level under your user profile. Choose between beginner, intermediate and advanced.
You can also select your favorite instrument at the same time so that your instrument's audio track will be disabled by default in your song mixer.
Now available for jamming via the iOS Jamzone App. Really feel the beat with this feature!