"The image is one thing and the human being another ... it's very hard to live up to an image." -- Elvis Presley
If there is a man who revolutionized pop music and pop culture, that for sure is Elvis Presley. Universally recognized as the King of Rock and Roll, the legacy of the best-selling solo music artist of all time is still alive and kicking even today, almost half a century after his early departure at the age of 42.
It is almost impossible not to recognise Elvis' voice when you hear one of his songs on the radio. Dozens of impersonators have tried to reproduce his ultimately unique sound, but there's a reason why there is only one king.
If you are thinking of upgrading your setlist with some unforgettable Elvis covers, on Jamzone you will find a vast selection of the King's most memorable songs. From super popular hits like "Can't Help Falling in Love" to the most danceable rockabilly tunes, we will help you choose the titles that best fit your style and, most of all, your audience's taste.
Get them dancing with Jailhouse Rock
Looking forward to getting your audience to dance? Whatever audience you're performing for, with Jailhouse Rock it's impossible to fail. One of Elvis' most famous rock'n'roll hits, as soon as you hear it, you instantly picture a dancing crowd straight from the Fifties and start shaking your head to the catchy rhythm.
Who doesn't remember that iconic dancing sequence in the black and white movie? His innovative style of dancing was heavily criticized at the time. Remember that scene from Forrest Gump, where Forrest's mother frowns upon Elvis dancing on TV? Elvis' moves, with all the shaking of the hips, were seen by many as very vulgar and not appropriate for children to watch.
But despite criticism, Elvis' dance moves gained their place in history. And so has Jailhouse Rock.
Rockabilly vibes: Blue Suede Shoes
Well, it's one for the money two for the show
Three to get ready now go, cat, go
If you want to stick to extra catchy up tempo rock'n'roll masterpieces, go with Blue Suede Shoes, another big time Elvis classic that will not disappoint you if your goal is getting people on the dancefloor.
Blue Suede Shoes, originally performed in 1956, is one of the first examples of what would later be called rockabilly, a sparky blend of country, rhythm and blues and pop music. Like Elvis' dancing moves, back in the Fifties this new music genre was a bit looked down upon, but the younger generation loved it, and that's what ultimately gave it its immense popularity.
With rockabilly, Elvis brought rock'n'roll into mainstream pop culture, becoming an idol for young masses and a sex symbol who made waves of teenage girls dream throughout the Fifties and Sixties.
If you're playing at a private party, at a birthday, or even a wedding, the rock'n'roll vibes of Blue Suede Shoes are guaranteed to get even the laziest guests up on their seats.
Iconic romantic Duets
And speaking of weddings, if you often happen to perform for happy couples celebrating their love, Elvis' most famous ballads are definitely a choice to be considered for your setlist.
While Elvis' fame is inevitably tied to the sound of rock'n'roll, his baritone voice was simply perfect for romantic ballads. And yet, when he started out in his singing career, Elvis' early ballads were turned down at several auditions, where he was also told that he was never going to make it as a singer.
Be it a wedding celebration, Valentine's Day or any other special occasion, choosing one of Elvis' most iconic ballads for your setlist will be something the happy couples will truly appreciate. It is difficult to fail with a good old Can't help falling in love, and what could be more romantic for a slow dance than Love me tender?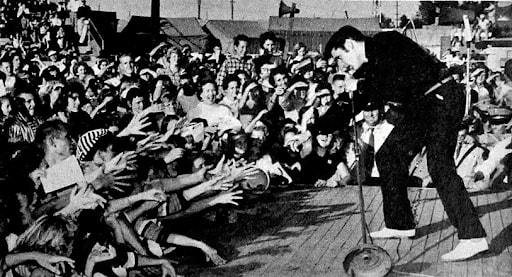 These are only a few of the many songs from King Elvis available on Jamzone for musicians to practice.
If you are looking for some more inspiration, visit our app to find out more. You can also vote your favorites among the titles still pending to be produced: the versions that get most votes will then be officially produced!